This is topic Da Bears in forum Member Forum at The New Huntmastersbbs!.


To visit this topic, use this URL:
http://www.huntmastersbbs.com/cgi-bin/cgi-ubb/ultimatebb.cgi?ubb=get_topic;f=6;t=005031

---
Posted by Cdog911 (Member # 7) on January 27, 2019, 07:35 AM:

On a less negative note, today is a cool day and I thought I'd just take a minute to name drop. Not hunting related, but rather, football.

Today is the 2019 NFL Pro Bowl and I can say that I know one of the players. Cody Whitehair, starting center for the Chicago Bears was born and raised here and played football with my son. He was heavily recruited by college teams and ended up playing left tackle under Hall of Fame Coach Bill Snyder at my alma mater, Kansas State University. From there, he was recruited by numerous NFL teams, finally being drafted by the Bears. He just completed the third year of his rookie contract and has one more year before he can go free agent.

He is a very upstanding young man and nothing like so many of the others that get attention. In fact, when he was being courted by different teams, the Miami Dolphins invited him down and told him if he came on the weekend, several of the players would take him clubbing on Saturday night, to which he replied that Saturday night, he goes to church and that he really wasn't into the club scene, so no thanks. In the off season, when he's not training every day, he helps his brother-in-law coach little league baseball. He told us that, at first, the kids were a bit awe struck, but then he just came to be "Coach Cody".

This is the team pic here in Abilene. Cody's in the upper left, circled. My son is center front, his sophomore year.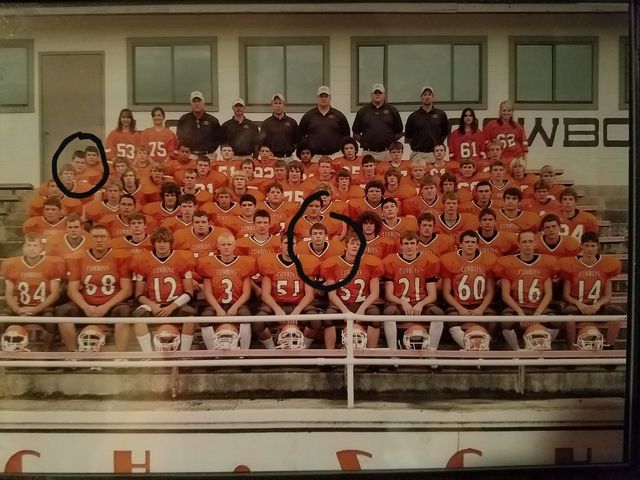 And this is one of his team pics.




I see his grandmother every day on my route, know his dad kinda, his sister and her family live just around the corner from me. He's very good at what he does and it's different to watch a pro game and be watching something other than where the ball is going. I do have to say that Cody does a great job because he rarely lets the guy he's blocking through.

Just thought I'd share this. Not an NFL fan, but I do watch Cody play when I get the chance and can assure you that not all NFL players are like the media want us to think they are. Some are home grown and humble.

[ January 27, 2019, 07:36 AM: Message edited by: Cdog911 ]

---
Posted by earthwalker (Member # 4177) on January 27, 2019, 02:00 PM:

I hope he stays safe doesn't have health problems later in life.

My niece thought her son was going to be something in football. Pushed him until he got a concussion then went back in to soon got another one and from what I hear has had brain problems and the kid wasn't even in high school yet. Now he's screwed up somewhat.

---
Posted by Cdog911 (Member # 7) on January 27, 2019, 04:13 PM:

Sorry to hear that, EW. The season this pic was taken, my son suffered a brain bleed which ultimately changed his life when the doctors missed it and he began self-medicating with alcohol, marijuana, and ultimately meth. His injury came just before our military efforts came to terms with how to manage traumatic brain injury and by the time Dal's happened and was diagnosed, it was too late. On a good note, he's worked hard to stay clean and sober for nearly 13 months now, but every day is a struggle. I hope your guy there seeks out the help he needs and makes the best of a difficult situation. It takes a lot of time and commitment to overcome such an injury.

---
Posted by Leonard (Member # 2) on January 28, 2019, 06:49 AM:

I never actually played football in high school. I went out for it once, as a freshman but I lived too far and couldn't make it to practice. But, there is no question, there are more serious injuries than everything else put together. We used to play tackle football at the park when I was a little older and that was brutal, no pads. And teenagers don't have any sense anyway, we would really lay it on. The worst hurt I ever had was a guy jammed the point of his knee into my thigh, as I tried to get past him with the ball. I fainted in the hallway when I got home, my leg was so swelled up I had to have water drained twice. I'm pretty sure I was 16, never passed out before or since. We were lucky somebody didn't break their neck.

I never played any team sports, I boxed golden glove, ran track, middle distance, and swam freestyle and breaststroke. All individual effort. In the Army, I was usually the first one through the obstacle course, concertina and barbed wire and live fire overhead. Therefore, it's mostly crawling on your belly, you probably shouldn't get on your knees, not a good idea. Invariably, these things were at night. It's a friggin' race, but I was good at it. You know how it is, I thought I was bulletproof in those days. Others might say I was a prick? But, when the man says, take that hill, you don't say; wait a minute, let's talk about this! That's why they want 'em young and dumb.

Where was I? Football Well, I've lost interest in the pro game, for the most part. Take a knee? That Kapernik dink, I can't spell his name, but he's a wimp, even his mother is ashamed of him, that must be hard to do? Anyway, he's not good enough to play the game so who gives a shit what he says? Standing for the National Anthem is expected, seems to me?

Sorry to ramble!

Good hunting. El Bee

---
Posted by Cdog911 (Member # 7) on January 30, 2019, 05:23 PM:

What a coincidence. My first delivery on my route is a Do It Best hardware store across the street from the Post Office. Walked in, dropped their mail on the counter, turned around and Cody was standing a few feet away. Gave me a chance to say "hi". He stopped through on his way from St Pete back to Chicago and was buying his mom a new washer and dryer (would be my guess). Asked him if he had fled the cold in Chicago, since it was -23 there this morning and a balmy +6 here, at the time.

Yep, he's one of the good ones. Said he was heading north as soon as he got his mama taken care of. My phone was buried under six layers of clothes or I'd have gotten a pic. Then again, I hate it when you see guys like him being bum rushed by adoring fans. I like it that Abilene is a place where he can just hang out and be Cody.

For a town of 7,000, we have our share of heroes. Ike, Marlin Fitzwater (his brother still lives here) and Cody. Eisenhower's grandaughter recently moved back here. Nice lady.

---
Posted by Leonard (Member # 2) on January 30, 2019, 08:01 PM:

7,000? Geeze!

I live in a small town, by Southern California standards. Upland is 77,000. Pomona, Ontario and Rancho Cucamonga surrounds me and they are all close to 200,000.

Good hunting. El Bee

[ January 30, 2019, 08:02 PM: Message edited by: Leonard ]

---
Posted by Paul Melching (Member # 885) on January 31, 2019, 06:11 AM:

Around 1500 in Ash Fork if you count the crack heads living in the national Forest. I believe the post office has 1200 PO boxes .

---
Posted by Leonard (Member # 2) on January 31, 2019, 10:24 AM:

Hey Paul, I used to hunt around Ash Fork in the 60's/70's possibly before you ever heard of it. But, near as I can tell, not much has changed, except now the Interstate passes close by.

I remember checking into the motel in town a couple years ago and I asked for the triple A discount. The old lady looked at me and said; sheesh, it's only $23! No, we don't offer AAA discount or AARP.

Driving Route 66 and reading the Burma Shave signs is a hoot! I envy you, Amigo. Nothing like that small town charm.
(ya bunch of hicks!)

Good hunting. El Bee

---
Posted by Paul Melching (Member # 885) on February 01, 2019, 04:48 AM:

Years ago I hunted up here with Gerry Blair and my son and grandson Four stands four coyotes he called with a Tally Ho , no emotion no inflection just a wah wah wah ! What a hoot sure miss him !

[ February 01, 2019, 06:13 AM: Message edited by: Paul Melching ]

---
Posted by booger (Member # 3602) on February 02, 2019, 05:52 AM:

Lance,
Cody is one big fella, and is really good at his position.

Since you mentioned him, I have paid attention to him when the Bears play.

Don't forget the other Abilene High grad that played in the NFL...Frank Wattelet.

He would have graduated in 1977, and then went on to play at KU and was drafted by the Saints. I think he played for 10 years or so with the Saints and Rams.

He was a fast 'sumbitch! In 'the old days', Russell played Abilene the first football game of the year.

As a sophomore, I suited up for varsity, but only got in the game when some poor schlub was getting his ass chewed.

I was fast enough for an average white boy, and played defensive end. Abilene ran a Wishbone offense, and as my bad luck would have it, I entered the game, and they promptly ran the option to my side.

Frank went around me so fast, I thought I was in an alternate dimension...always cool to say you got beat by a future NFL dude...


[ February 02, 2019, 05:54 AM: Message edited by: booger ]

---

UBB.classicTM 6.3.0