This is topic Better brakes in forum Hunting Vehicles at The New Huntmastersbbs!.


To visit this topic, use this URL:
http://www.huntmastersbbs.com/cgi-bin/cgi-ubb/ultimatebb.cgi?ubb=get_topic;f=8;t=000065

---
Posted by DAA (Member # 11) on June 09, 2019, 08:51 AM:

A project I have going to get some better brakes on my LJ.

It has been running upgraded performance factory size rotors and pads since the big tires went on years ago. And they do a better job than the straight factory stuff did.

But, with all the extra weight of bumpers, winch, armor and the much larger and heavier than stock tires and wheels, the brakes have never been any better than just adequate.

There are "big brake" kits out there that would give me what I'm after, but they are expensive, starting at about $1,500 to as much as you want to spend from there.

So I'm trying to piece together a big brake kit with off the shelf parts.

Starting with knuckles from an '88 Cherokee.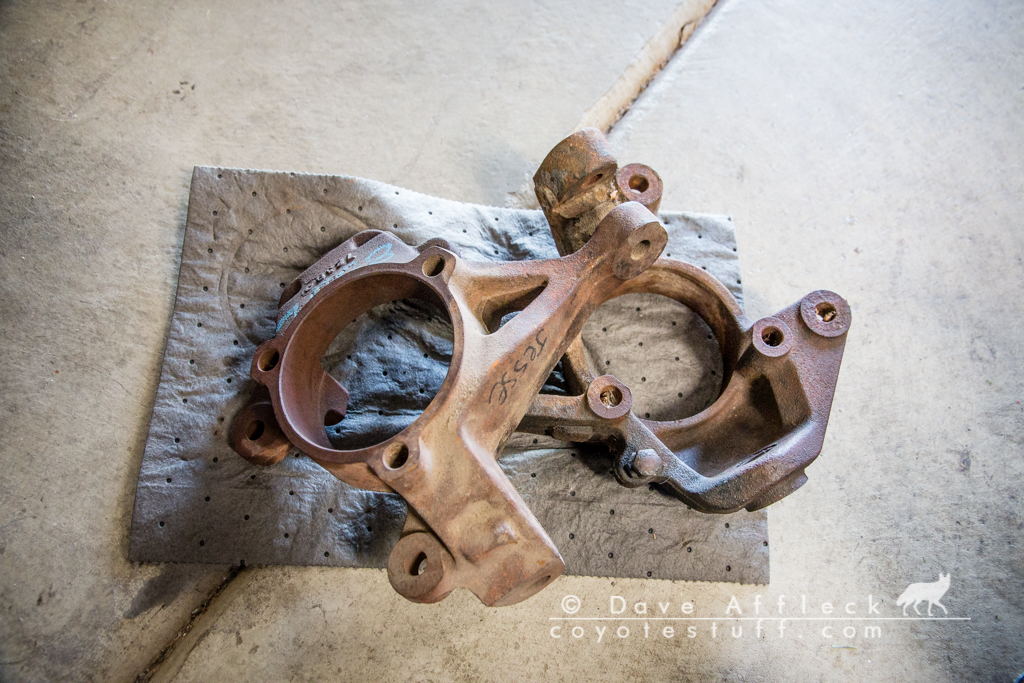 After cleaning them up real good, re-tapping the threads for the steering stops, drilling out the caliper mounting holes to 14mm and installing new split rings.




Then, I got some dual piston calipers for a new Grand Cherokee.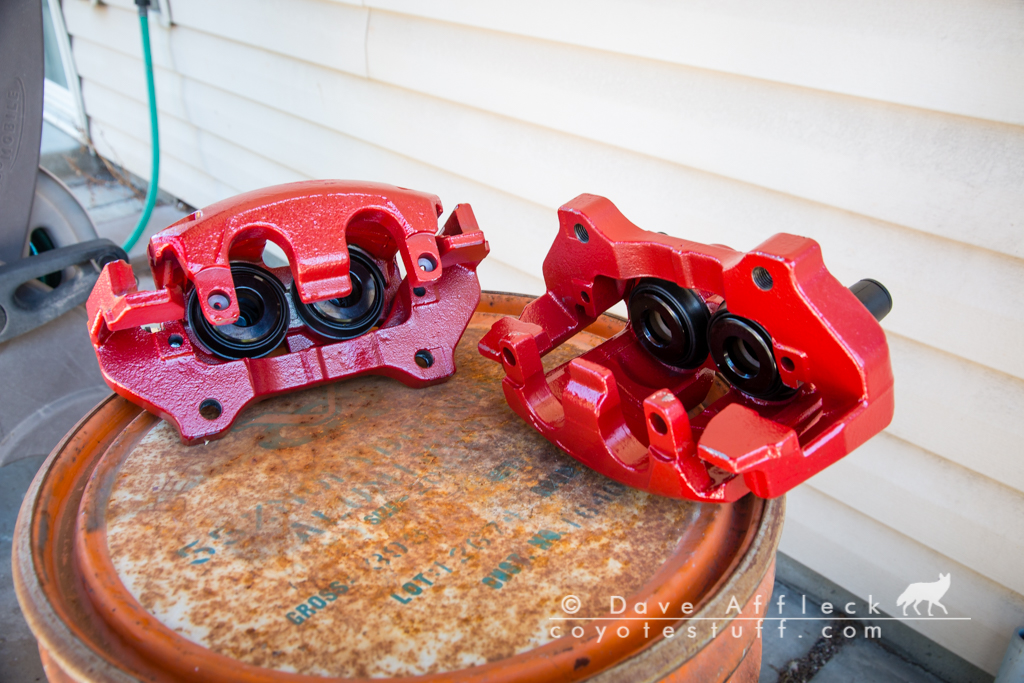 And loaded them with Yellow Stuff pads.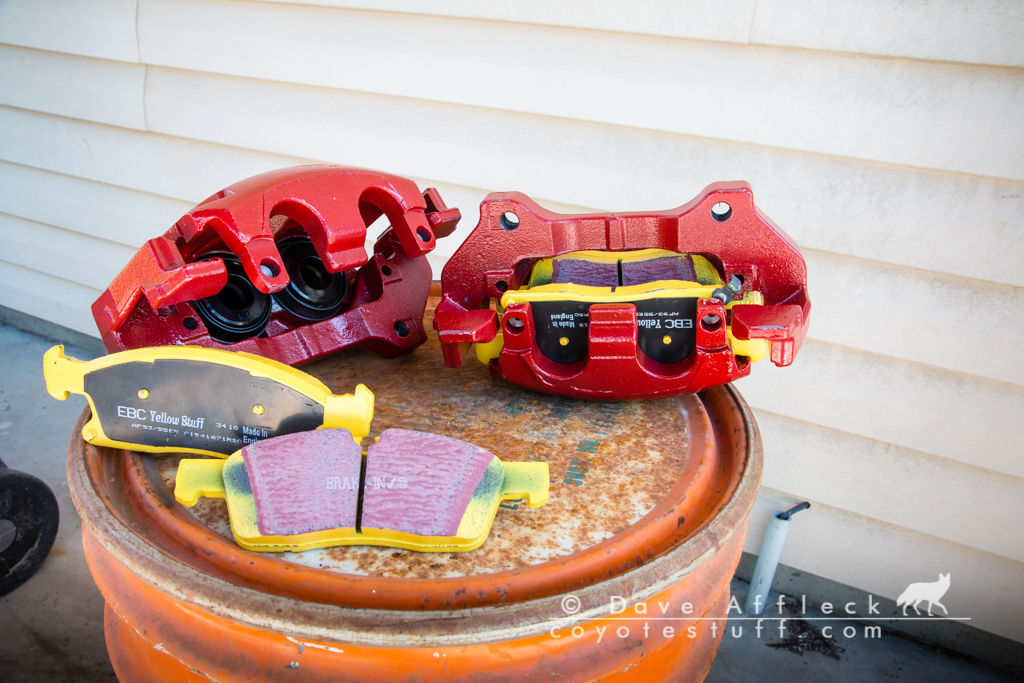 These are way beefier calipers than the factory TJ came with. With a lot more swept area on the pads.

And the reason for the XJ knuckle. It's just sitting on there, not bolted, but you can see the caliper mounting holes are the same spacing as the WK2 caliper bracket.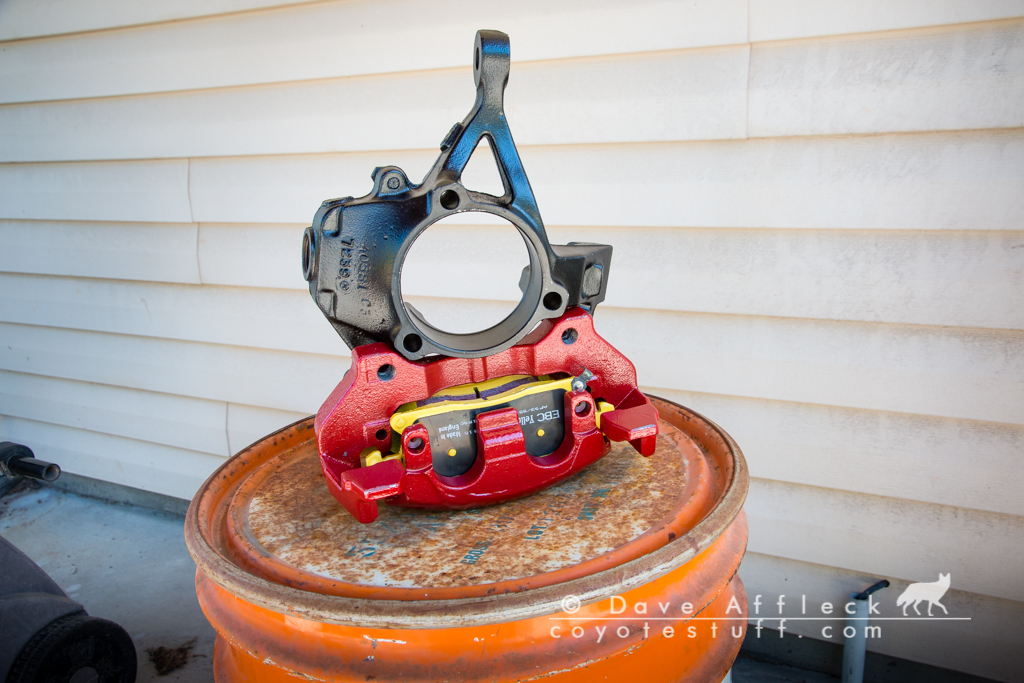 I still need to get some rotors for a Mustang GT, and some hardware. Then get my friend to do some machining work for me. Then, put it all together and see how it works.

The math on the master cylinder volume looks like it pencils out okay. I'm expecting longer brake pedal travel, but to have enough pedal. Won't really know for sure until it's all together for testing. But I'm hoping not to need a new master cylinder.

- DAA

---
Posted by Leonard (Member # 2) on June 10, 2019, 12:16 PM:

....even if you do, that's not a lot, compared to where you already are.

Awesome project, Dave. I'm sure it will be an improvement, the question is how much, and if you consider it worth it, or not?

You know, that's one of the problems I always had with my Power Wagon, drum brakes on the '74 and the next year they went to front disc brakes. And, it was carrying a heavy load with the steel camper shell and the tires with the 12" rims, which I took off a Jeep, not a common five hole pattern.

Any way, I sold that truck last year and might talk to the new owner, who is going whole hog on the reconditioning. Shit, it looks like a new truck! Maybe he wouldn't mind showing off his ultimate night rig? On the other hand, I could understand if he would rather keep it to himself.

Good hunting. El Bee

edit: one of the scariest events I ever had with the Dodge was when my brakes completely failed coming west, down Westguard Pass. I hit a turnoff that was slightly upgrade and stopped with inches to spare. Brakes cooled after 20 minutes and the rest was uneventful. Don't matter, the first part was a real pucker event!

[ June 10, 2019, 12:22 PM: Message edited by: Leonard ]

---
Posted by Lone Howl (Member # 29) on June 10, 2019, 09:21 PM:

Nice Dave!

---
Posted by DAA (Member # 11) on June 11, 2019, 02:43 AM:

The question is, how much improvement. Which will decide whether it's worth it. Which, I won't know until it's done.

This is all in, well under half the price of a packaged kit though. Very inexpensive way to do it. If it works well. We shall see.

- DAA

---
Posted by Kokopelli (Member # 633) on June 11, 2019, 05:14 AM:

Sometimes, ya just gotta do it ……………. because ya just gotta do it.

---
Posted by knockemdown (Member # 3588) on June 11, 2019, 05:34 AM:

Dave, after being treated to the totality of your posts here, pretty sure most of us can deduce that this latest project of yours isn't just about saving scheckles. It highlights inspirational qualities, such as your ability to think 'outside the box', and the determination to see a project thru to fruition...

That kinda stuff is respected amongst like minded folks. And, even if results aren't ideal, the endeavor itself is always worth it, cuz you (and we) learnt sumthin along the way!

So, what kinda machining needs done? Does that beefy knuckle affect steering geometry?

[ June 11, 2019, 05:36 AM: Message edited by: knockemdown ]

---
Posted by DAA (Member # 11) on June 11, 2019, 05:57 AM:

Thanks Fred!

The machining needed is pretty minimal. I'm going to have to either turn down the OD of the hubs, or open up the ID of the rotor hat. Just a hair.

For that, I could just use a grinder on the hubs. Get the Jeep up on jack stands, put it in gear and grind as they turn. Might do it like that anyway.

I do need some spacers made to center the caliper on the rotor though.

There are many ways to get where I'm trying to go here. The appeal of the expensive kits is that they don't disrupt existing steering geometry. The traditional DIY approach has been to use WJ knuckles, which requires all new steering and pan hard brackets and geometry. And which, with my unusual small lift/big up travel setup, would be difficult to package, at best. Probably would require adding bumpstop and reducing up travel. Not willing to do that.

The hopeful beauty of the approach here, is those XJ knuckles will retain all my existing steering and pan hard geometry. They shouldn't require even so much as an alignment. Though, I'll check toe in before and after anyway, just on GP.

- DAA

---
Posted by knockemdown (Member # 3588) on June 11, 2019, 06:59 AM:

Gotcha.

Since the caliper shims are gonna require machining, I'd sooner have the rotors' ID opened up at the same time. Rather than the alternative...

Of course, I'm assuming you're gonna want machined a one piece shim, vs. some sorta washer stackin' type deal on the caliper bolts?

[ June 11, 2019, 07:01 AM: Message edited by: knockemdown ]

---
Posted by DAA (Member # 11) on June 11, 2019, 11:09 AM:

One piece spacers for sure Fred.

I might go with grinding the hubs vs machining the rotors though for the simple fact I can do it myself in my own garage. Next time I need to change pads and rotors that would be an advantage.

- DAA

---
Posted by Leonard (Member # 2) on June 11, 2019, 11:48 AM:

It's not especially precise to grind the circumference, as I'm sure you are aware and the exact O.D. isn't critical, it's just not exactly the way you generally do things. I'm nitpicking, but tooling up rotors on an engine lathe is a simple procedure that could be done in an hour. And no metal filings to get into moving parts. I've done a lot of lathe work, what you need done is so simple, I wouldn't risk your grinder bumping into something. I know you are capable of being very careful, but I'd machine the parts, myself.

Good hunting. El Bee

---
Posted by DAA (Member # 11) on June 12, 2019, 12:37 PM:

So I've been scouring online parts catalogs for different rotor options.

I don't think I'm going to do Mustang GT rotors after all.

There is a Durango rotor with the proper bore that wouldn't require machining and the hat height and rotor thickness would take about a little bit less of a spacer. It would need to have the lug patter re-drilled, but that's not a big deal. Less spacer and no bore machining are the upsides. Only downside is it is a bit smaller diameter than the Mustang rotors, so less swept area and less improved stopping.

Or... The front rotor for a Mercedes SL500 look like they might be just the ticket. Same 13.25" diameter as the Mustang rotors. Would require the same machining of the bore as the Mustang rotors. And, would also require re-drilling the lug pattern. But! For all that extra work, the reward would be requiring only 1/3 as much spacer. That much less spacer makes me happy.

Still looking, still thinking.

- DAA

---
Posted by Leonard (Member # 2) on June 12, 2019, 02:31 PM:

Our favorite Lurker thinks you don't need dual piston calipers for crawling up and down dry creek beds. But this isn't about need, it's about want.

About the original master cylinder. Seems to me, that little piston, plunger doohickie can be tweaked and change response characteristics quite a bit?

---

UBB.classicTM 6.3.0